I confess that I am trying to get into shape (to say again would be stretching it). So I got up early on a Sunday and took a spin class. It ruined my whole day. I can hardly walk, fell asleep in my car in the driveway and I just hope I can walk at work tomorrow. So dinner needed to be super simple with good protein for my recovery.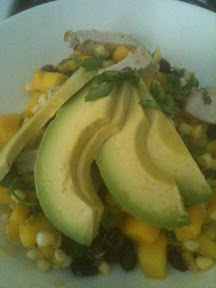 Here it is....
2 ears fresh corn
1 mango
1/2 can black beans
1/2 avocado
Juice of one lime
1 tablespoon fresh cilantro
Salt and pepper
I also added one slice fresh cooked turkey breast from Whole Foods. Took me less that 5 minutes to make.
So yummy and filling. I even have enough for lunch tomorrow.